we bundled these for you!
Showit E-Commerce Template
Business Cards & Email Signatures
or make your own bundle*

buy more save more
buy 3 or more products to unlock a 10% discount
buy 5 or more products to get a 15% discount
for 8 or more products you get 20% off
10 or more makes you a superhero with 25% savings
these tiers apply to a any combination of products
but we recommend to bundle from the same theme for brand-consistency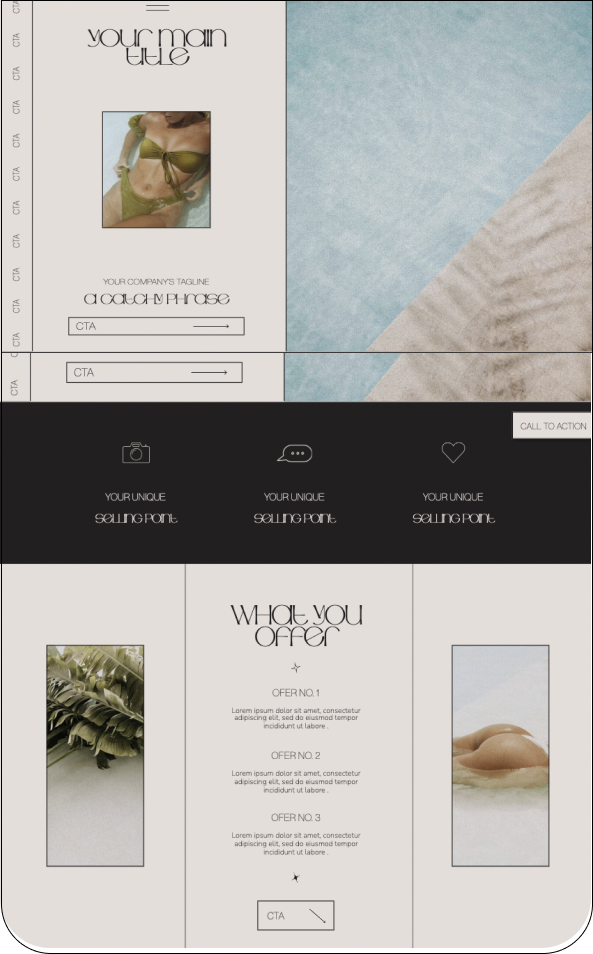 Fun, edgy and summery, this beautiful Showit Website Template is incredibly easy to edit in just a few clicks. Strategically designed to attract your dream customer, you can use it directly with the Malibu Summer identity or with your own brand's look-and-feel.
The Malibu Summer Branding Kit is equally cool and fun. Its 'vintag-y' font and color pairing gives it an edge, ideal for a personable brand. Go for it, you'll love it :)
Attract the ideal client/customer with the edgy, trendy and strategically designed Malibu Summer Ad Templates.
Bring some of the fresh Malibu air straight into your Pitch Decks and close that dream collaboration right now!
Look extra professional with the bun and edgy Malibu Summer Business Cards and Email Signatures.
The Malibu Summer Social Media Templates are a perfect combination of cool, trendy and edgy. Designed to catch your dream client's attention with its bright colors and fun elements, it will make you stand out from the crowd in the blink of an eye!
Promote your latest article, product or drive visitors to your website with these fun and edgy Malibu Pinterest Templates.
Like the look of our templates? Get a pack of 40 images to kickstart your website, with images tailored to your templates' look-and-feel. Plus you'll get the presets that we used to edit them so you can style your own photos with a similar look!