new*
showit website template for property bookings
integrated booking system
Increase direct bookings and still utilise Airbnb or bookig.com
Drag and drop, and one click changes is all it takes to make our templates your own!
Following the current design trends, to help you convert.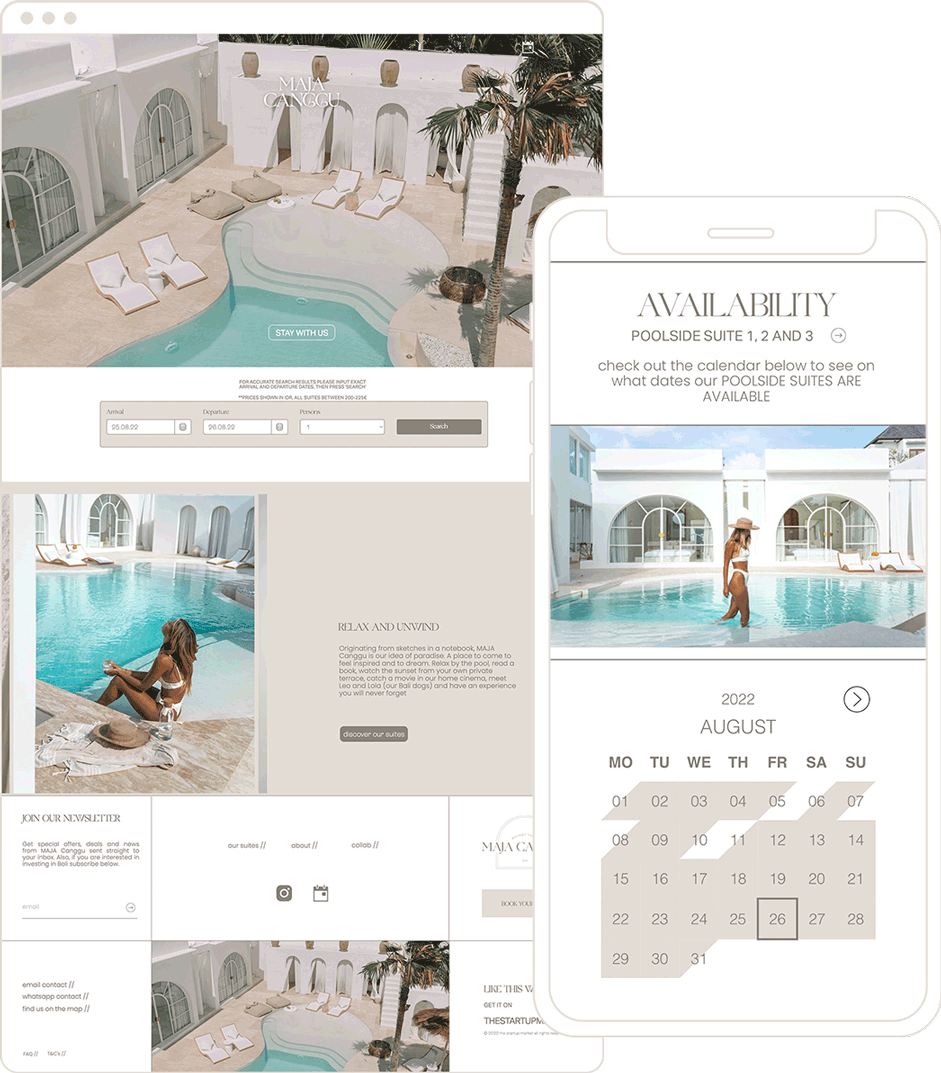 stop paying commissions on bookings
Our Showit Website Templates are easy to edit (I mean our dogs could use these templates, with their eyes closed), beautiful and on trend, but most importantly strategically designed to help you turn your dream client into an actual customer :)
The Showit Booking Template is simple and extremely visual, designed to convey the essence of your venue and make bookings effortless with a built-in booking system.
Take our 5 minute test
we designed this quick test to help you identify your business needs - with us you'll never have to break the bank to get the brand of your dreams, but we also won't ask you to get assets you may not need
beauty before brains? We get you - but you don't have to choose. We have all products in different looks so you can get what you want the way you want it! Sounds good? You also get discounts for bundles - the sky is the limit. The more you buy - the more you save
don't TAKE OUR WORD FOR IT, TRUST THEM INSTEAD...
I admire you, I am inspired by you every single day and basically, I love to buy everything you offer because IT IS SO GOOD!!!
Hi guys, thanks again so much for the webinar and congrats on launching your new products! 🥰🥳
I was on the live earlier on and I have absolutely no doubt that I need this service, I have been with CLD from the beginning and have invested in M&J's presets. CLD Mob & Vid editing course and most recently the freedom lab and sootrendy so I'm pretty dedicated to you guys!
I cannot wait to use them
Thank you so much for this. I really appreciate it and I am super thankful I am able to buy those gorgeous themes. I cannot wait to use them for my upcoming clothing brand. You guys are amazing and such an inspiration ❤️😍🙏🏼 Thank you once again! ❤️
I am discovering so much about my brand...I never wrote down any of this even though I knew it but it helps put everything into perspective and structure. Actually, it will help to create future content with purpose!