the best rental property & villa direct booking template
integrated booking system
Increase direct bookings and still utilise Airbnb or bookig.com
Drag and drop, and one click changes is all it takes to make our templates your own!
Following the current design trends, to help you convert.
save up to 30%
on booking commissions
Increase your direct bookings and save 20-30% while utilizing the reach of Airbnb and Booking.com
Have the best of both worlds
You have a villa, a small hotel, a guest house a van or any type of property that you want to rent out
you need a website for direct bookings so you don't have to rely on Airbnb or Booking.com
you are looking to quickly increase bookings for your hotel
you are a DIY business owner and don't want to write code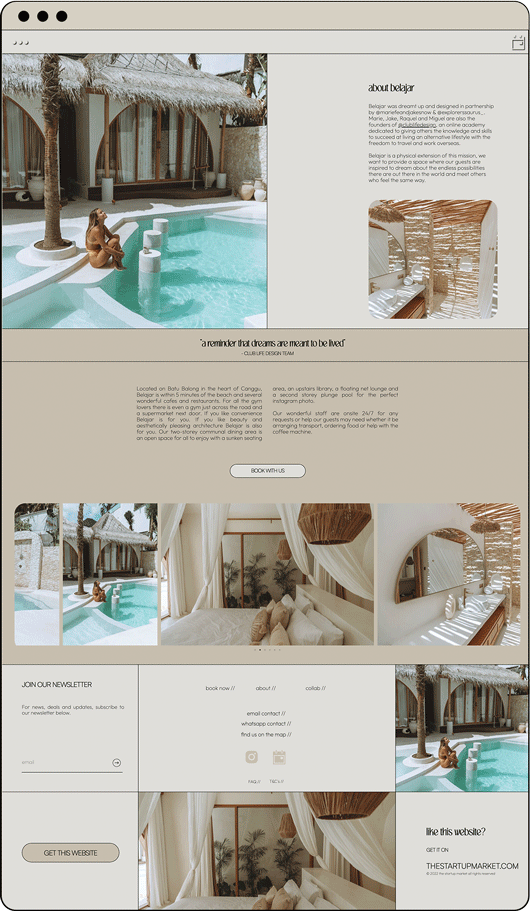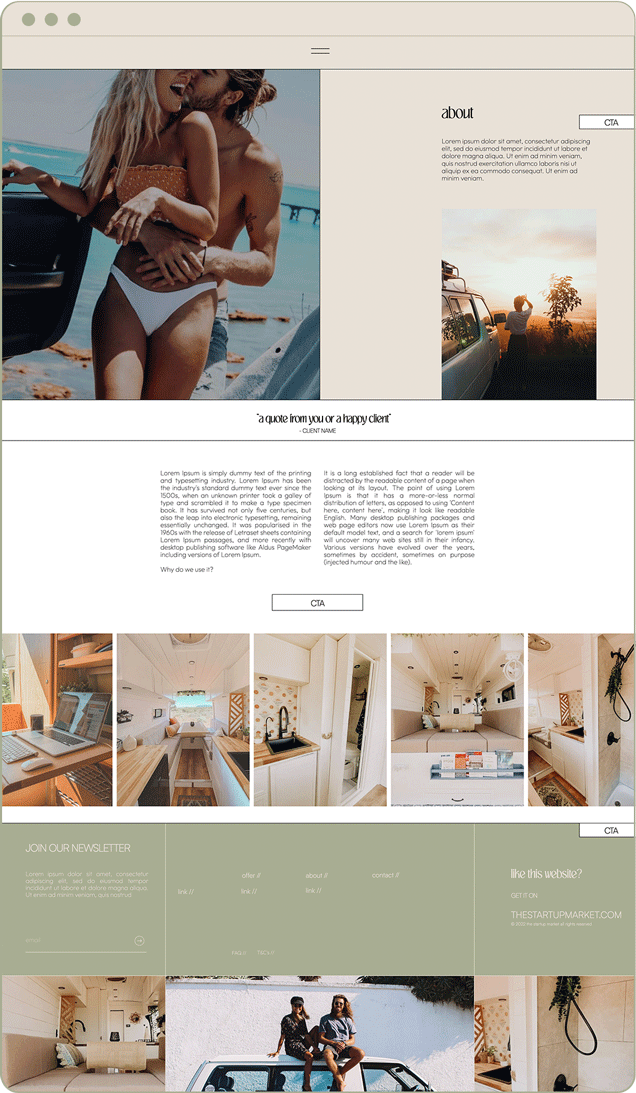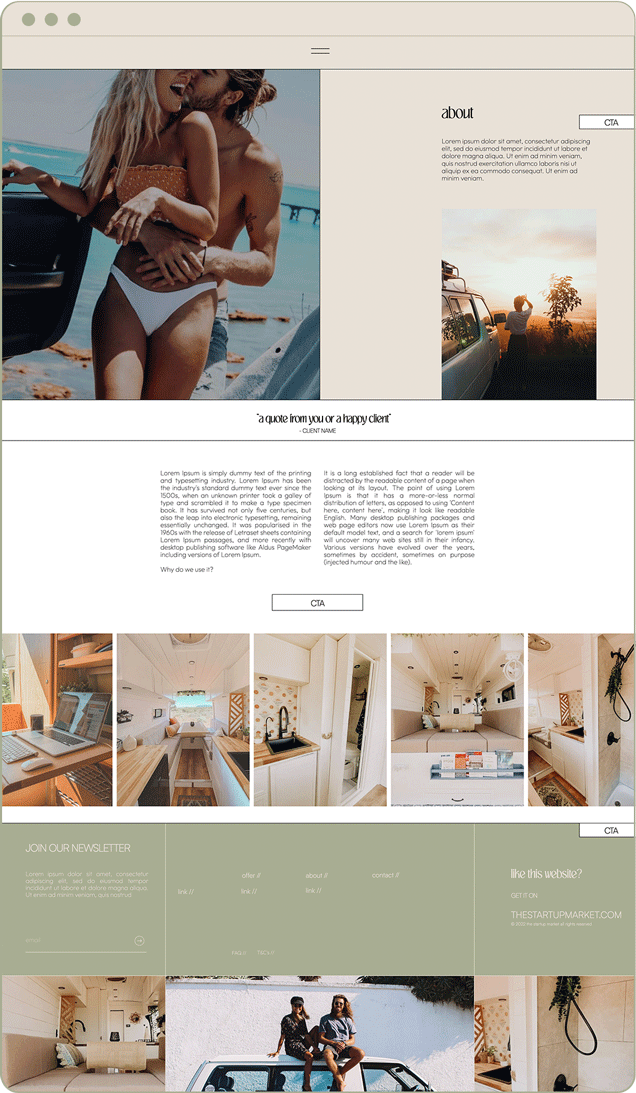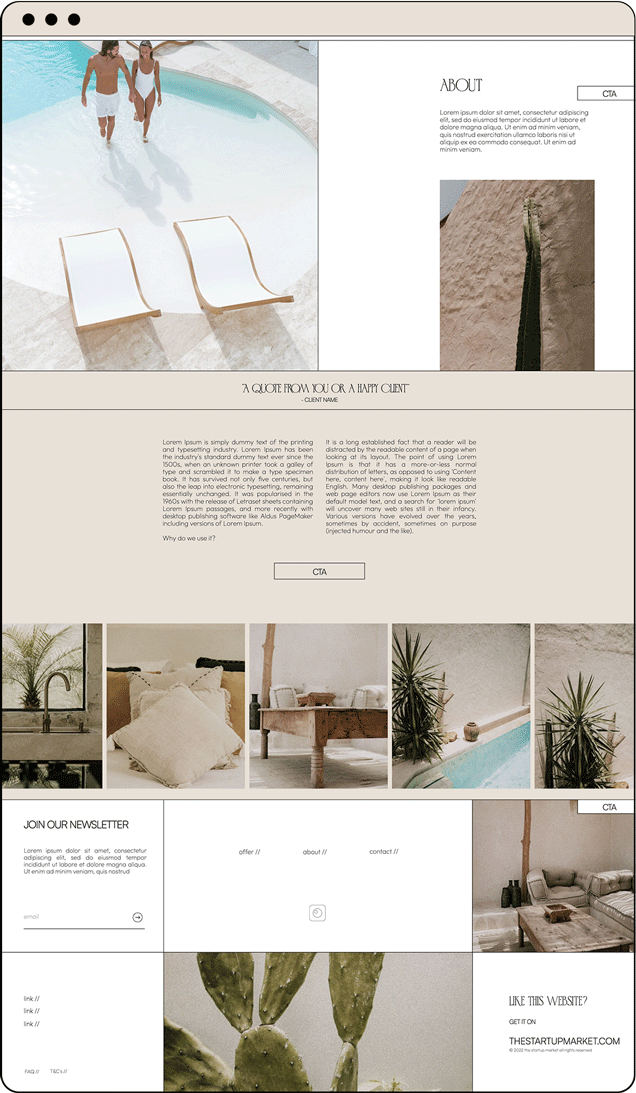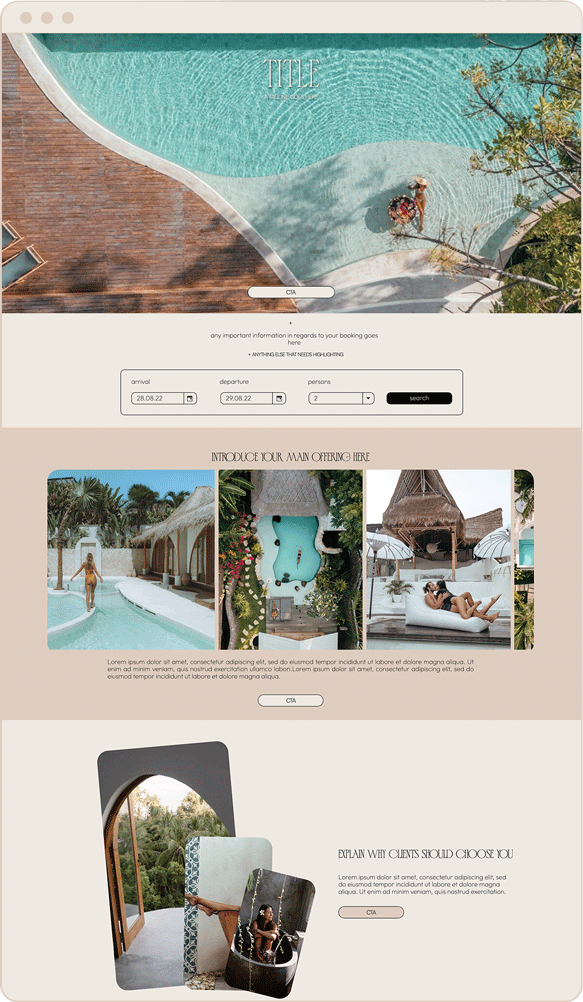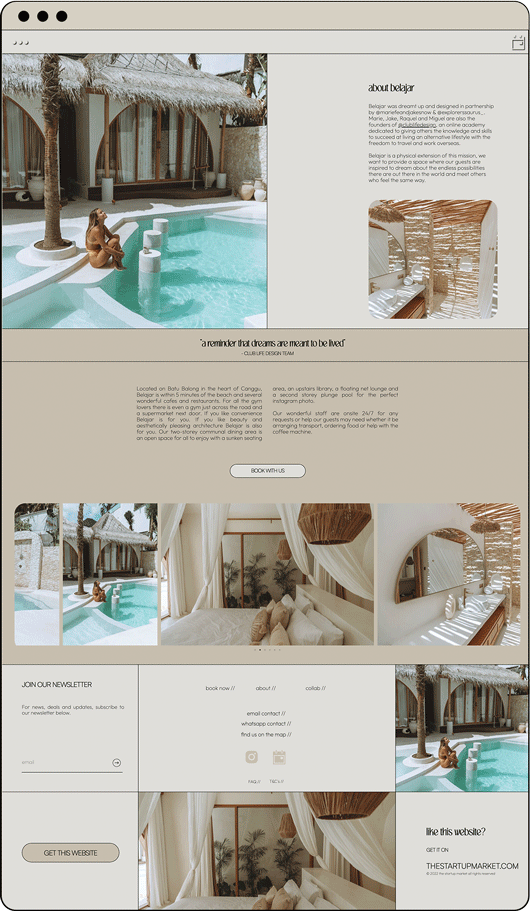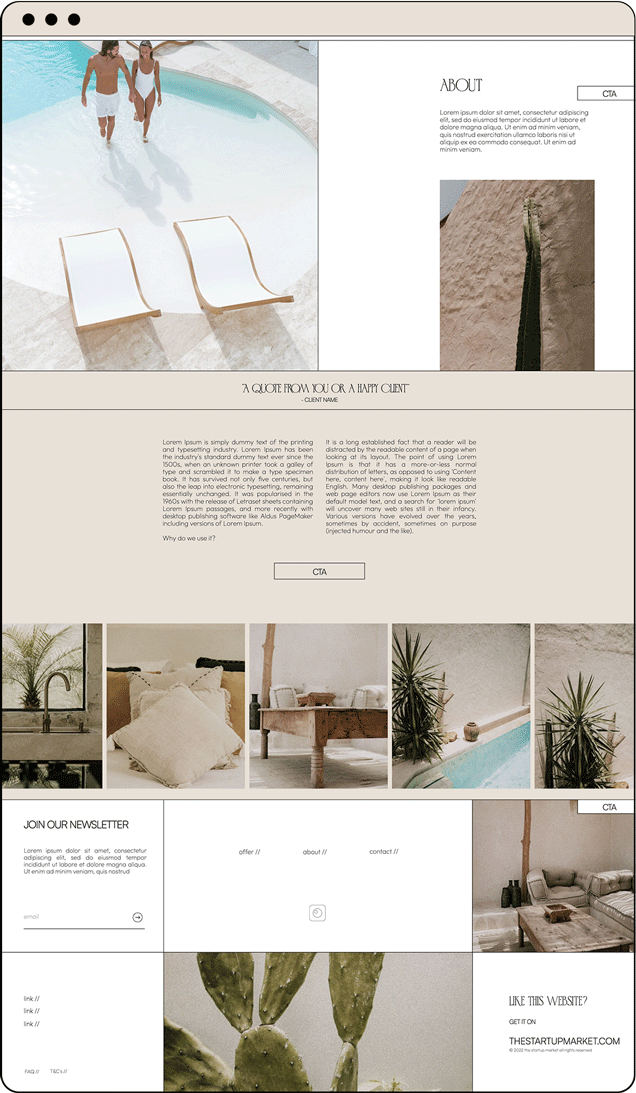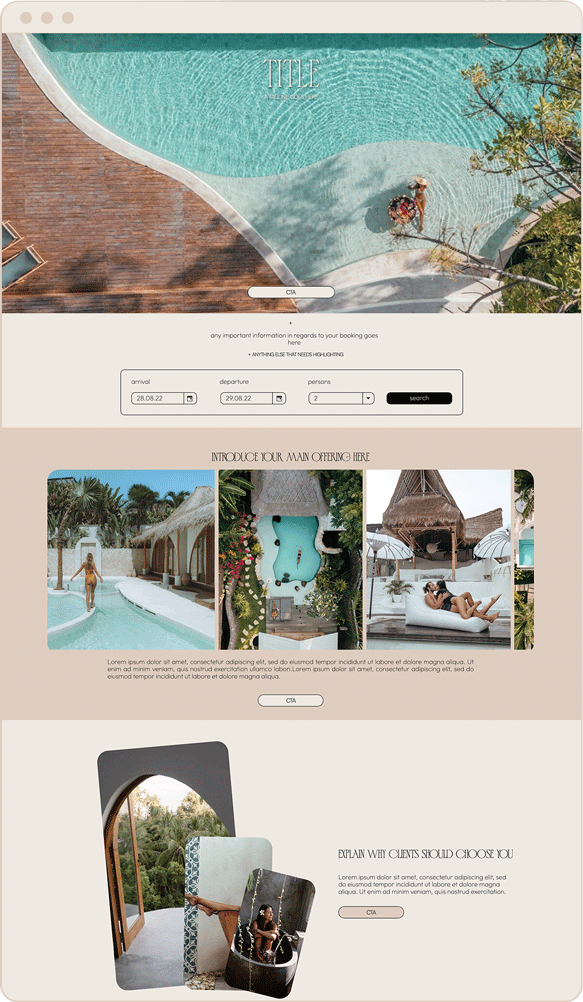 effortless bookings
that save you money
The booking Showit Website Template is simple, and extremely visual, specifically designed to convey the essence of your venue and make bookings effortless with a built-in booking system.
4 reasons why you need this template
With simple creatives, fonts and colors, the Showit Booking Templates are created to easily fit your brand and authentically highlight your venue's essence with large visuals, and turn visitors into customers with an integrated booking system (we took care of that for you! ;))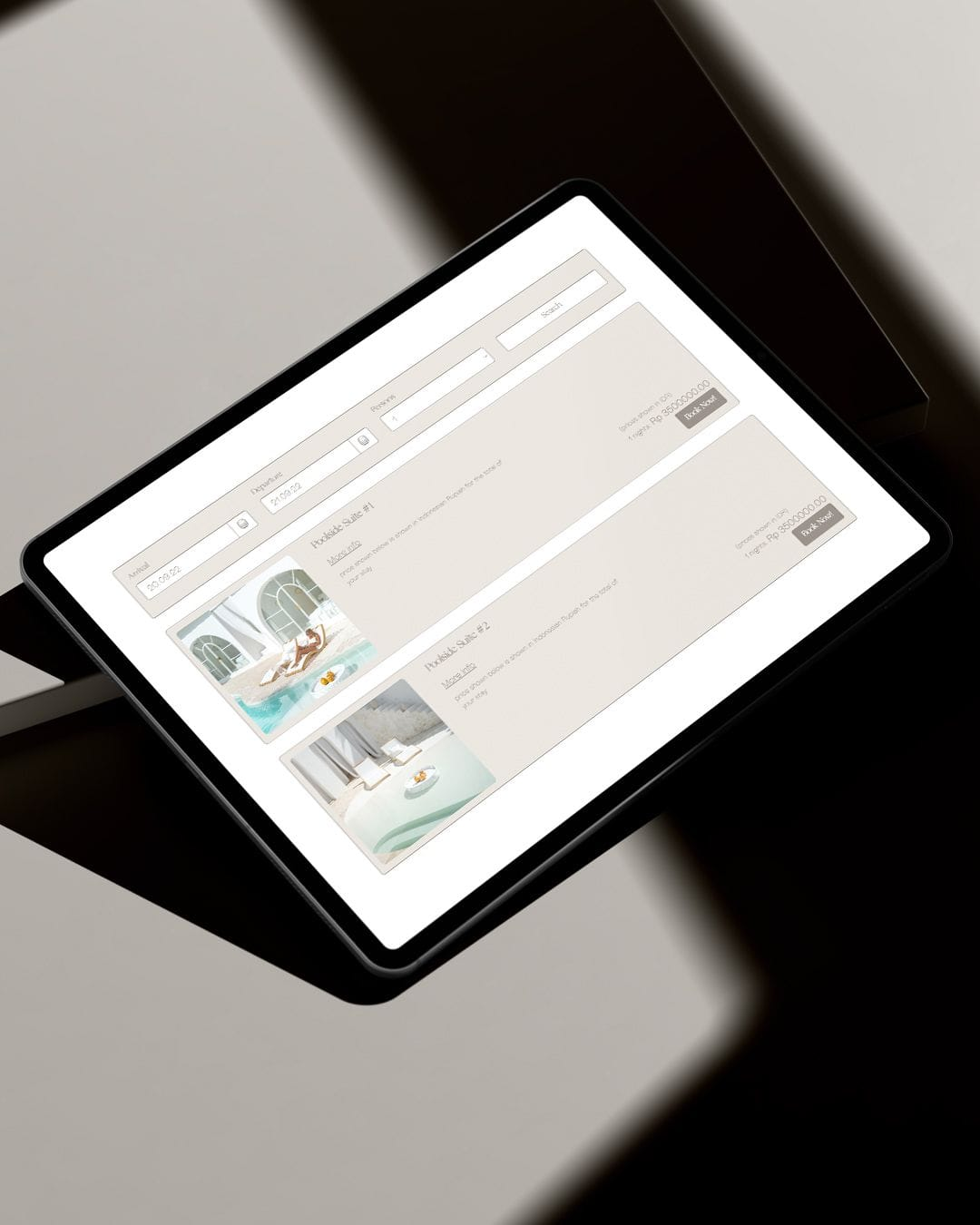 Built in the most flexible and user-friendly platform on the market - Showit - you can change fonts, colors, move things around and drag and drop blocks and photos. Showit is the most user-friendly and flexible platform on the market: you can make this template yours, and publish it live in a matter of minutes, without a line of code!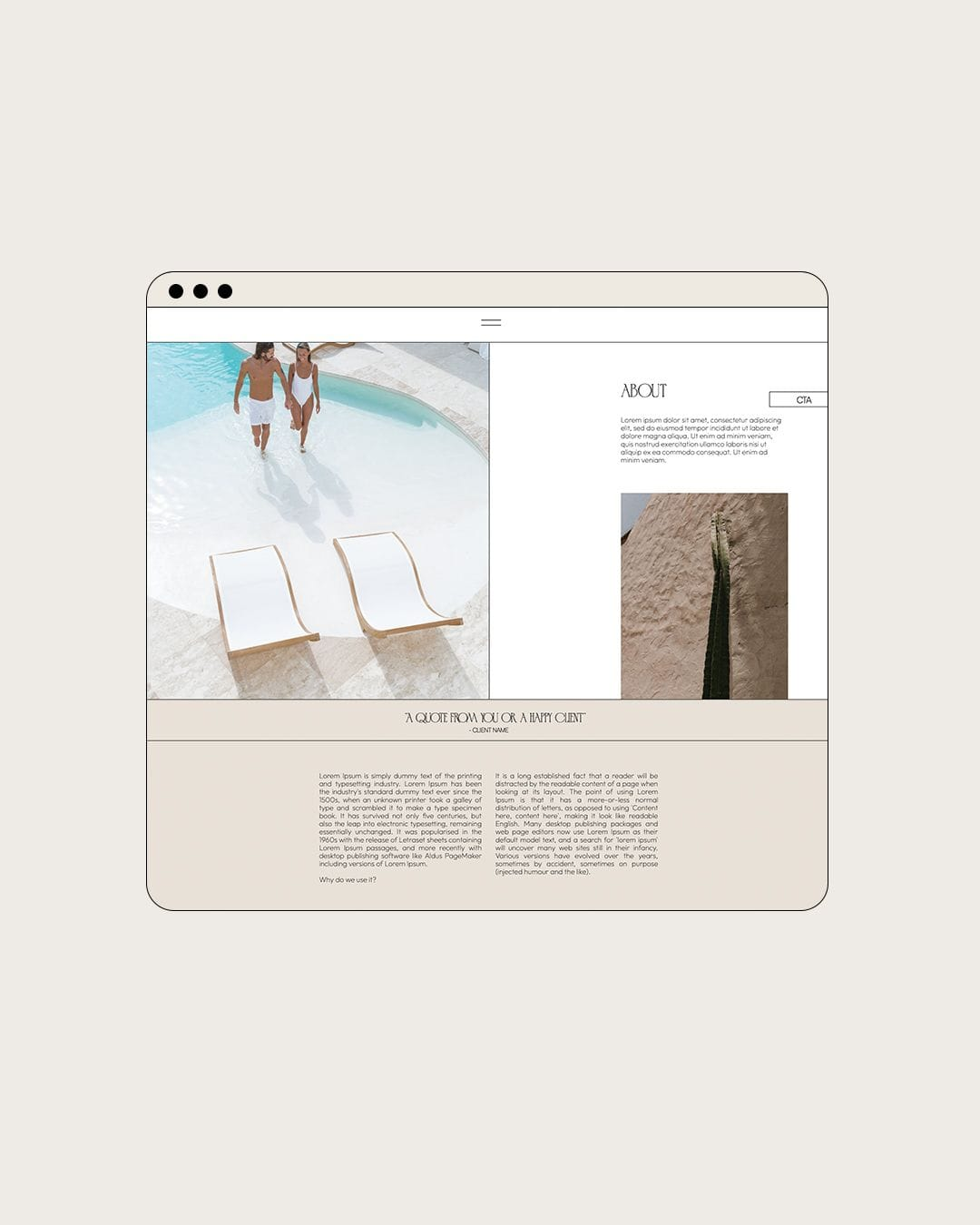 Most bookings are done on mobile nowadays, so it's necessary that your website stands out on all devices. We've got you, don't worry: the Showit Booking Templates are designed to convert on all screens :)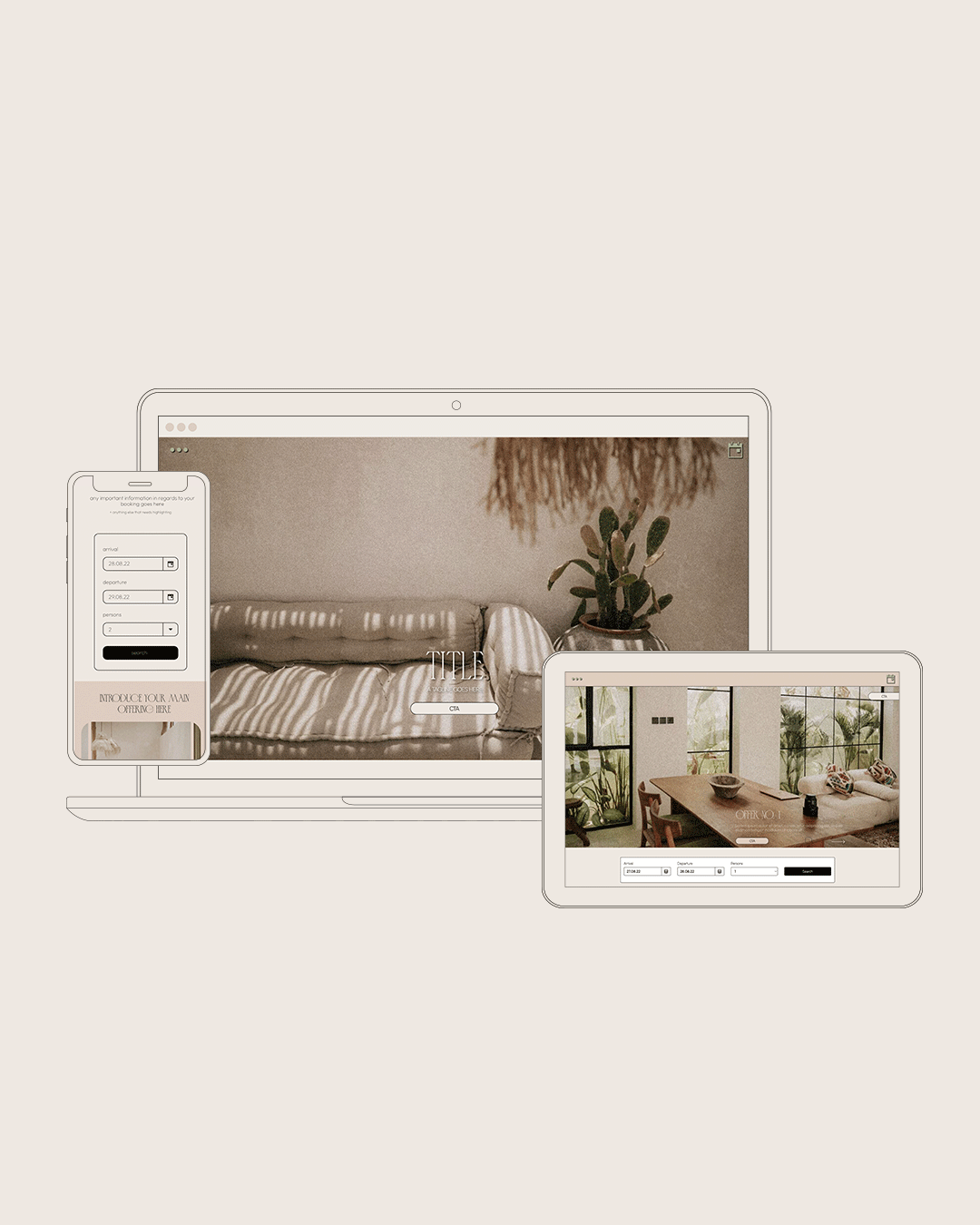 Following best practices for conversion, with clear call-to-actions and fun animations to make scrolling dynamic, the Showit Booking Templates are designed to help you generate bookings. It will also SAVE you money. Airbnb and booking.com take upwards of 25% from your revenue, whereas our solution takes 0% commission and still links with AirBnB and Booking.com so you can have the best of all worlds and manage everything in one place.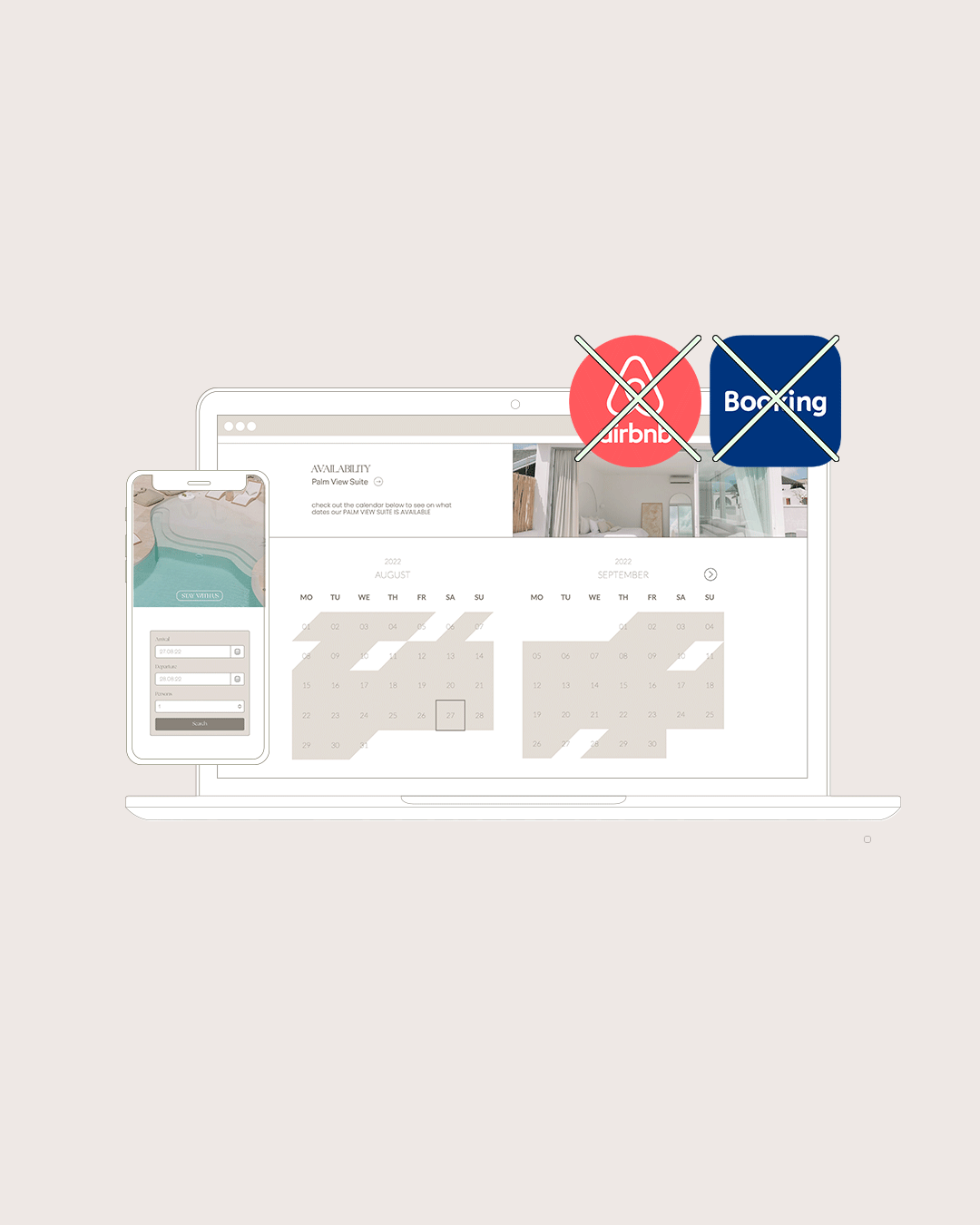 don't TAKE OUR WORD FOR IT, TRUST THEM INSTEAD...
I admire you, I am inspired by you every single day and basically, I love to buy everything you offer because IT IS SO GOOD!!!
Hi guys, thanks again so much for the webinar and congrats on launching your new products! 🥰🥳
I was on the live earlier on and I have absolutely no doubt that I need this service, I have been with CLD from the beginning and have invested in M&J's presets. CLD Mob & Vid editing course and most recently the freedom lab and sootrendy so I'm pretty dedicated to you guys!
I cannot wait to use them
Thank you so much for this. I really appreciate it and I am super thankful I am able to buy those gorgeous themes. I cannot wait to use them for my upcoming clothing brand. You guys are amazing and such an inspiration ❤️😍🙏🏼 Thank you once again! ❤️
I am discovering so much about my brand...I never wrote down any of this even though I knew it but it helps put everything into perspective and structure. Actually, it will help to create future content with purpose!
faq
How does this template work?
Our mission is to provide you with gorgeous, on-trend, user-friendly, built to convert website templates, so you can keep focusing on what you do best and stop wasting time on the rest.
We build all of our website templates on Showit because it's the most easy-to-use and flexible web designer platform on the market. With our support, and a couple of hours, your website will be up and running!
A couple of clicks, drag-and-drop a few elements, and turn our templates into the vision you have for your brand and business :)
And we've got toooons of tutorials (LINK) to help you customize your template and personalize the integrated booking system.
We've got you <3
Who is this template for?
This template is for anyone who has a hotel, a villa, an apartment, a camper van or anything else they'd like to rent without having to pay for crazy airbnb or booking.com fees.
What platform is the website template designed in?
The template is designed on Showit - it's basically the Canva of website designers: super easy to use, extremely flexible, and can fit to any brand in just a few clicks.
Is it easy to make this template match my brand?
Yesss, super easy, Showit is extremely flexible which means you can turn these templates into anything you'd like (add your fonts and colors for example). We have tutorials for everything in case you need them, but don't worry Showit is very intuitive and we're sure you'll learn how to use it in a heartbeat :)
Can I change the fonts and colors?
What is the booking platform integrated in this template?
The booking platform integrated in this template is SMOOBU, the rest of the website template is all designed on Showit. You'll need an account for both SMOOBU and Showit to use this template :)
How will I input my details in the booking system?
Don't worry, we've thought of everything, and created a tutorial in which we take you through everything.
I have my property on airbnb / booking.com, how can I transfer it to the template?
It's super easy, first you'll need to move all your content to our template, create a SMOOBU account, mark the dates at which your venue is available for renting, and then you can actually close your Airbnb and bookin.com accounts to save tons of money on fees!
You say that I will save money, how?
Third party booking platforms like Airbnb, booking.com, and expedia take up to 30% commissions on all bookings while SMOOBU doesn't take any, you just have to pay a monthly fee of 29€ :) Amazing, right?
I don't know anything about code, can I still buy the template?
Of course! Showit is the easiest website builder on the market, you will get used to it in just a couple of hours. As for the booking integration you just need to copy and paste a couple of lines of code. We explain everything to you in our tutorial
Do I need a Showit subscription to use this template?
Yes you do, however Showit gives you 14 days free trial which is more than enough to get your website ready (you will need 2 days max, yep it's that easy!).
Do you provide the domain?
No, The Startup Market and Showit don't host domains. You can buy your domain and domain hosting on websites like Namecheap, GoDaddy or Google Domains.
Do these designs integrate with any other web design platforms?
No, all of the TSM Showit Website Templates only work with Showit. Trust us, once you'll try Showit, you'll never go back to any other platform.
Where is my website hosted?
Are there any tutorials included with the template?